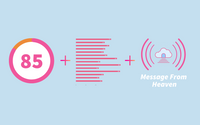 Listening to the advice that my Heaven team delivered through Mark has helped me to understand why I have struggled in all my previous relationships. After working hard on my RCs, my RQ is now at a level where I feel ready to embark on the relationship that will define the rest of my life here in the earth school.
Laura, Oregon
The Readiness Collection
Sale price Price $200.00 Regular price Unit price / per
About this service
Working with our individual Readiness services is a great way to start doing the work required to understand your readiness for a relationship. If, however, you feel ready to go deeper, and maybe move faster on your journey, then you should consider the Readiness Collection.
This collection brings together the Readiness Quotient and Readiness Characteristics, and adds an exciting additional piece: an extraordinary commentary from Heaven's perspective on your readiness for a successful, meaningful, and enduring relationship. We call this a Message From Heaven.
Mark works together with his Heaven team on your behalf for the purpose of evaluating your unique relationship readiness and potential. As Mark tunes-in spiritually and listens carefully, the information given for you is conveyed to him in a deep, heartfelt, sincere, loving, and non-judgmental way.

Only available as part of the Readiness Collection, your Message from Heaven adds significantly more support and information to your relationship readiness journey.
What you get.
Within 7 days of requesting your Readiness Collection, you'll receive an email containing the following items:
The numerical value for your Readiness Quotient number
The numerical value for each of your 14 individual Readiness Characteristics
Your Message From Heaven audio file--directly recorded by Mark personally
An Interpretation Guide to help frame your results. The guide also contains other resources that will help you chart a course forward, as well as learning invaluable information about your spiritual journey.
Why would I buy this service?
Maybe you have struggled through many previous relationships, constantly looking for, and never quite finding the fulfillment that you hoped for. The Readiness Collection will give you the confidence to move forward and find a new partner.